The first monitoring solution that provides demonstrable compliance in half the time.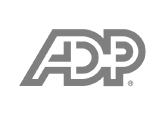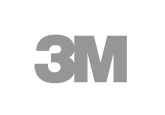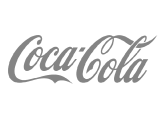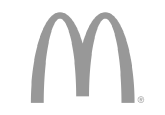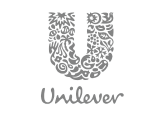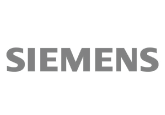 Visualize Accountability Over Time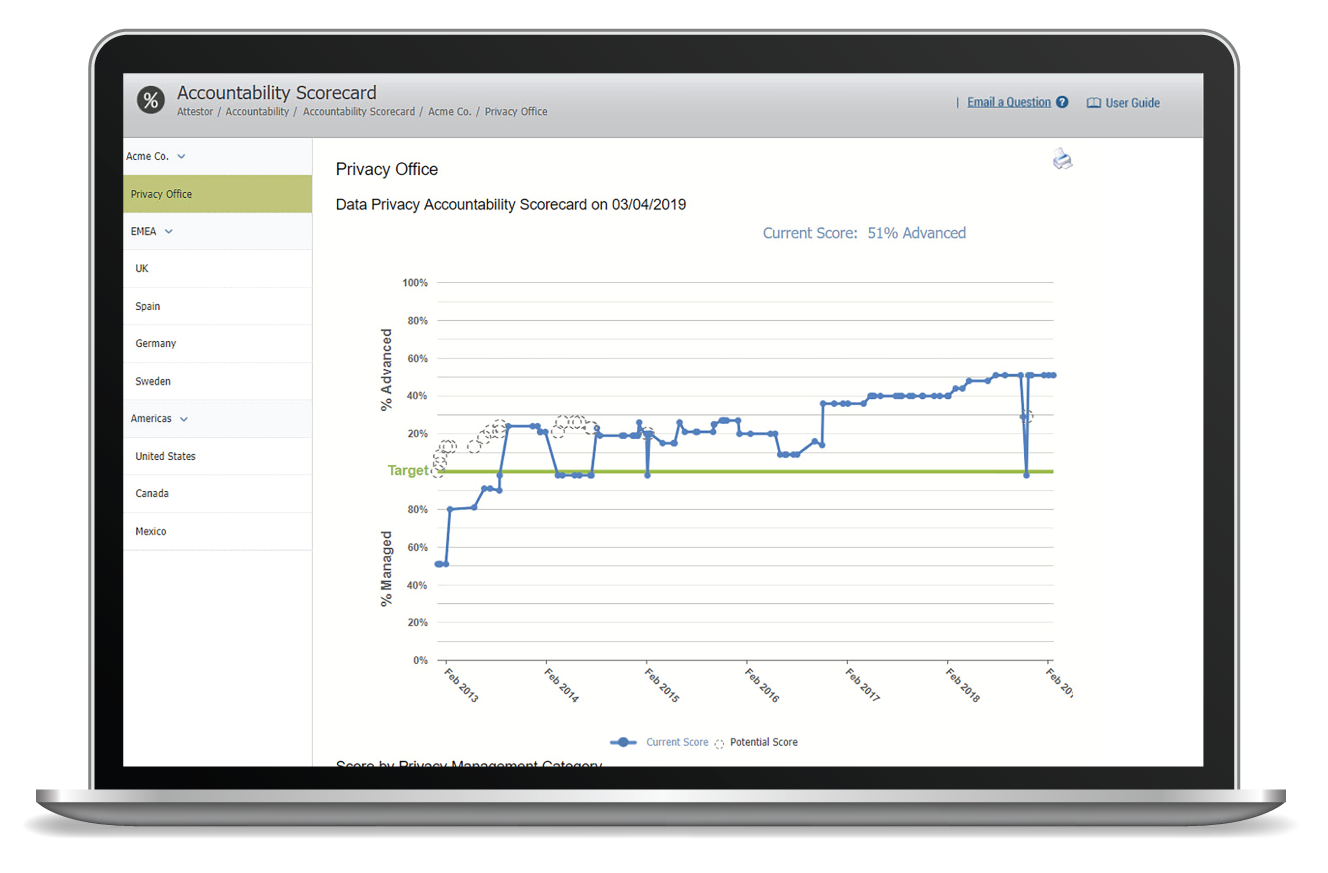 Business Friendly Single Screen Engagement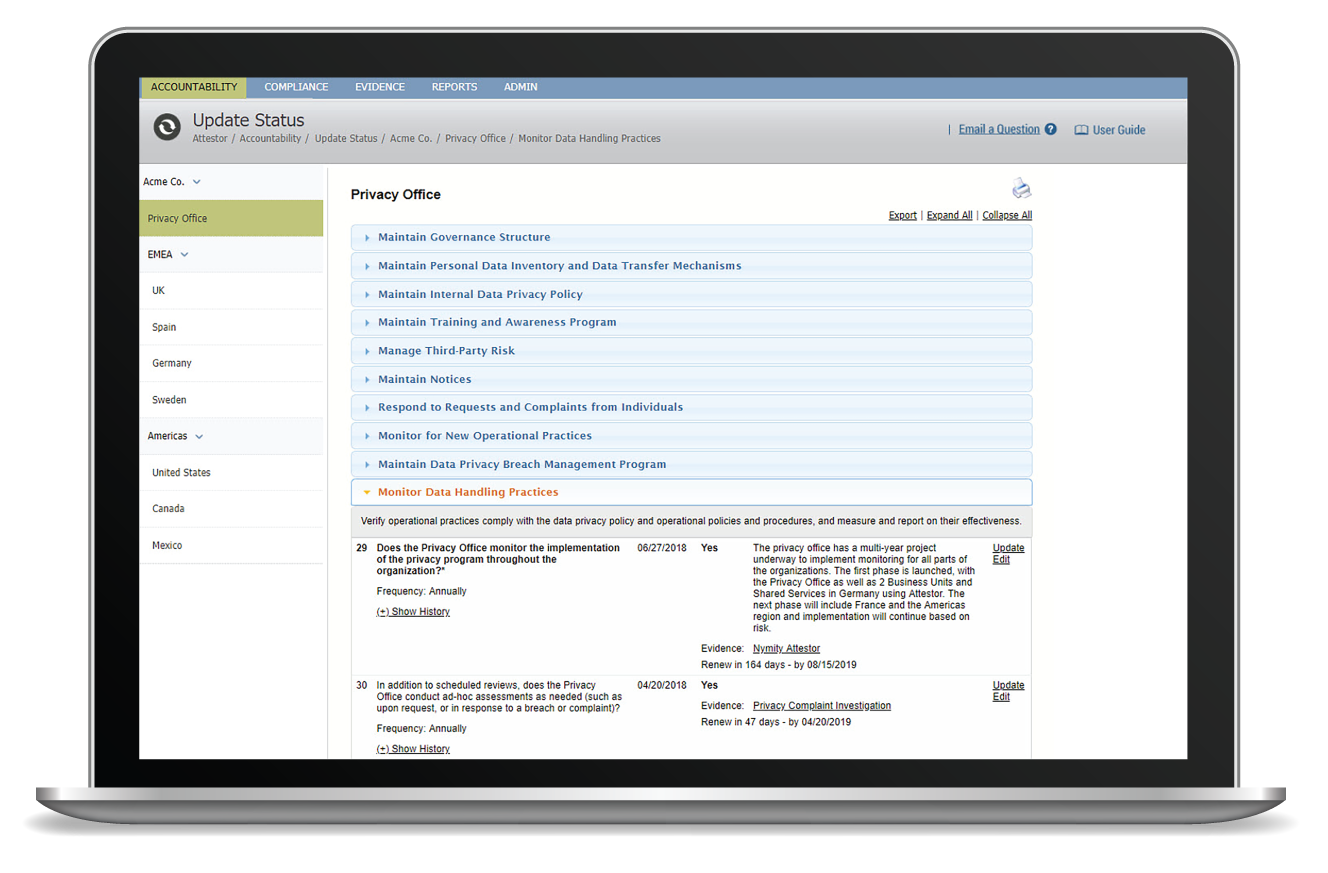 EXPERTISE
Confidently configure questionnaires using pre-written questions developed by privacy experts
For example, leverage Nymity's in-depth analysis of 41 articles in the GDPR that require evidence, and identification of the 56-privacy management activities which are mandatory for generating documentation to be used as evidence.
BINDING CORPORATE RULES
Demonstrate compliance with Binding Corporate Rules (BCR), national laws, and other compliance requirements.
Manage all aspects of the BCR process, beginning with readiness assessment, and throughout the implementation, application, and monitoring phases.
COMPLIANCE
Measure and report on compliance with national laws, APEC cross border privacy rules, and other rule sources such as codes and regulations
Streamline independent monitoring and assessment activities such as internal/external audits
PRODUCTIVITY
Achieve more with limited resources and expand the capacity of the privacy office by helping them enable and empower individuals throughout the organization to support compliance efforts.
Enable efficient collaboration, by allowing users throughout the organization to answer simple 'yes/no' questions and when necessary provide supporting evidence. This provides the privacy office with bandwidth to monitor and interpret results, rather than searching for documentation.
REPORTING
Produce on-demand, powerful, and easy to interpret reports on the status of your privacy program, both at an executive and a detailed level
Demonstrate accountability and compliance, with reports on the status of your privacy programs, generating quantitative metrics supported by evidence using the Nymity Data Privacy Accountability Scorecard
ACCOUNTABILITY
Map evidence collected in the Accountability Scorecard to 800+ global compliance rules based on thirteen privacy management categories to determine if your program satisfies the requirements or contains gaps.
Automatically map evidence to the GDPR, and enable the privacy office to contextualize evidence in order to demonstrate compliance.
The Assessment & Attestation tool has helped tremendously with carrying out audits quickly and effectively. We also use it to showcase audit results to management and set targets for weeks, months and year to come. With it's innovative feature-set, Nymity has become a key part of our approach.
– Aeronautic & Aerospace, Privacy Leader
With the Nymity platform, the process of Binding Corporate Rules has been far easier and less time consuming then before. It has also dramatically boosted our agility for demonstrating on-going compliance for local jursidictions.
– Management Services, Chief Privacy Officer
Nymity's platform is vital to any privacy compliance program. I have confidently promoted Nymity at all the companies I have worked for. I'm a big fan of the platform, it makes my day to day tasks easier and helps the privacy office be more successful overall
– IT & Professional Services, DPO
Business Friendly Monthly and On-Demand Reporting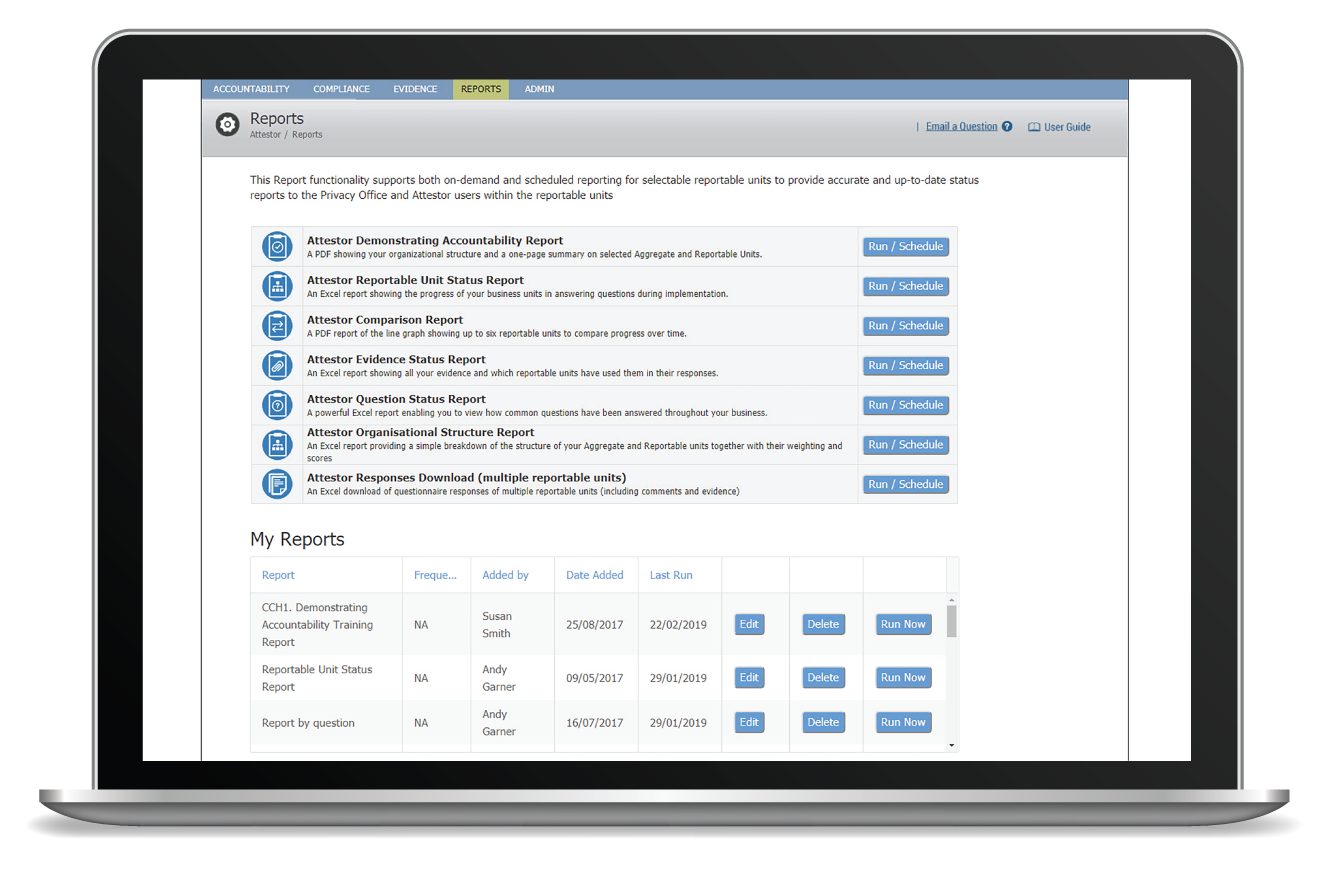 Easily Compare Accountability Over Time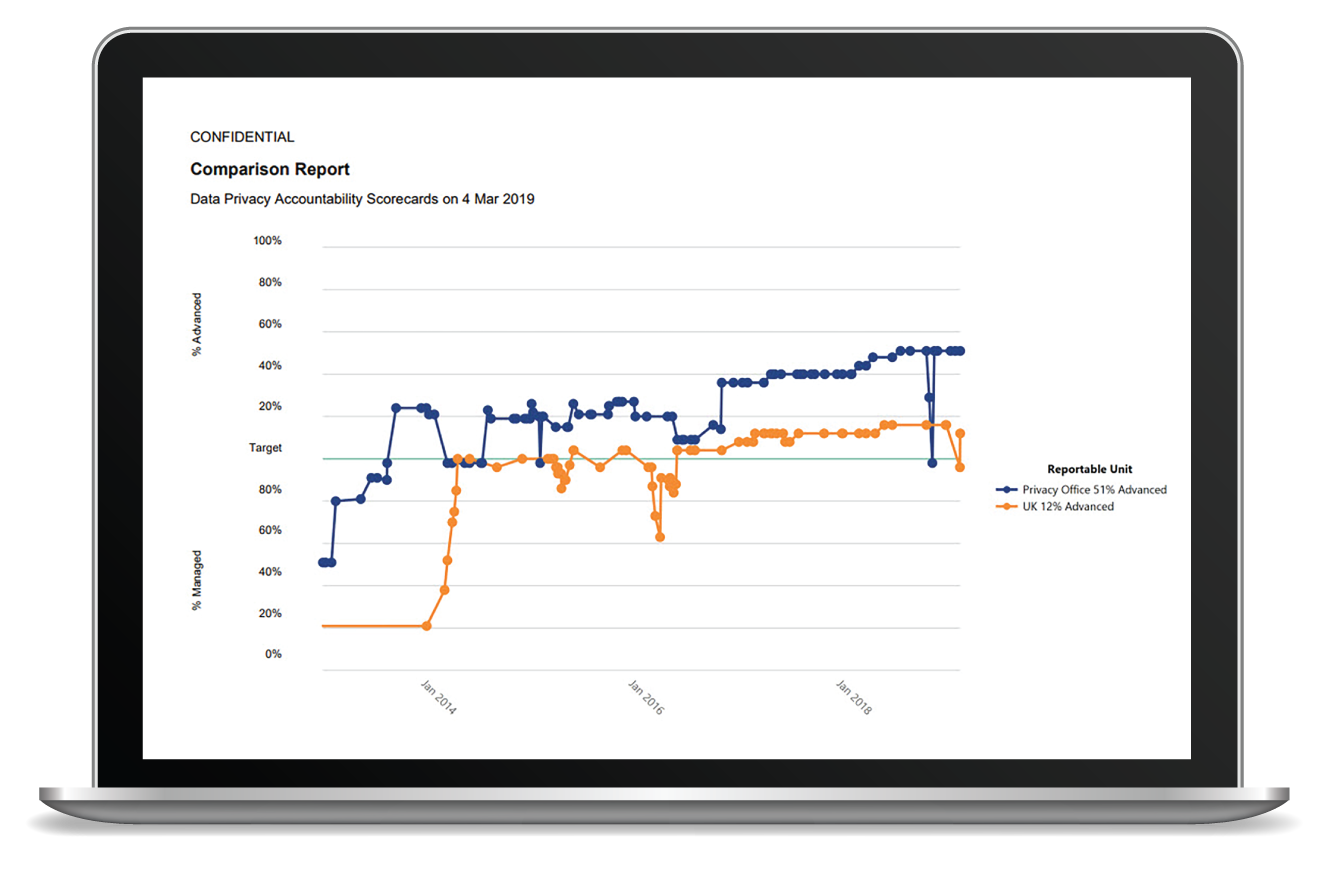 Powerful reporting functionality – high-level view of the privacy program, or drill-down to the details
Data privacy accountability scorecard
Complete global coverage, map evidence collected in the accountability scorecard
Efficient collaboration tools
Stakeholder engagement workflows
Powered with global Rules library from Nymity's Law Comparisons module
Library of policies, procedures, processes and training materials
Global compliance program
Binding Corporate Rules (BCR) process
Smart questions, contextualized for each business unit
Fast, flexible setup & deployment across the business and privacy office
Pre-loaded out-of-the-box questions, created by privacy experts
Map evidence to accountability scorecard
Proven compliance assessment methodology
Easily Demonstrate Compliance, for example GDPR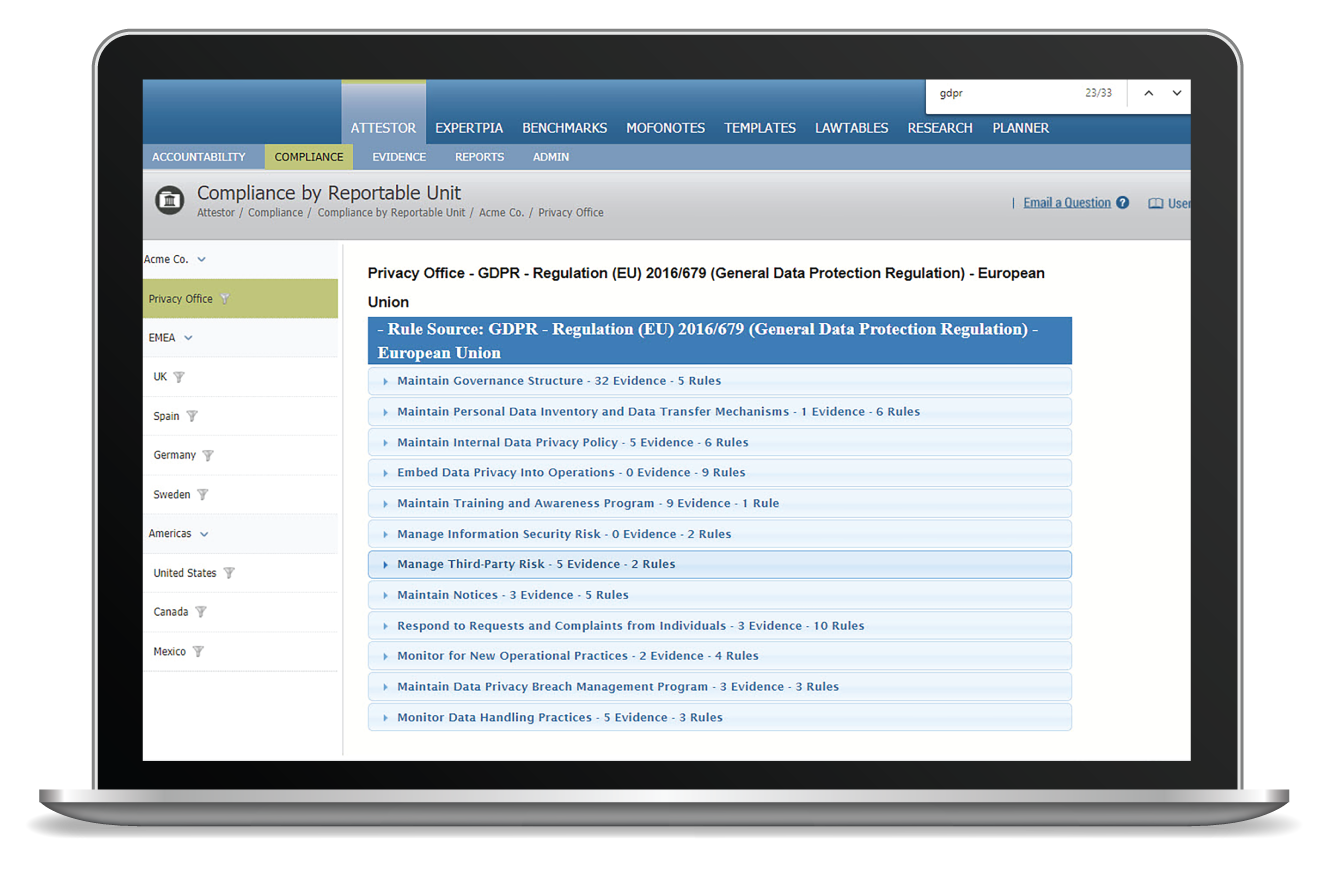 Conduct Quick Gap Assessments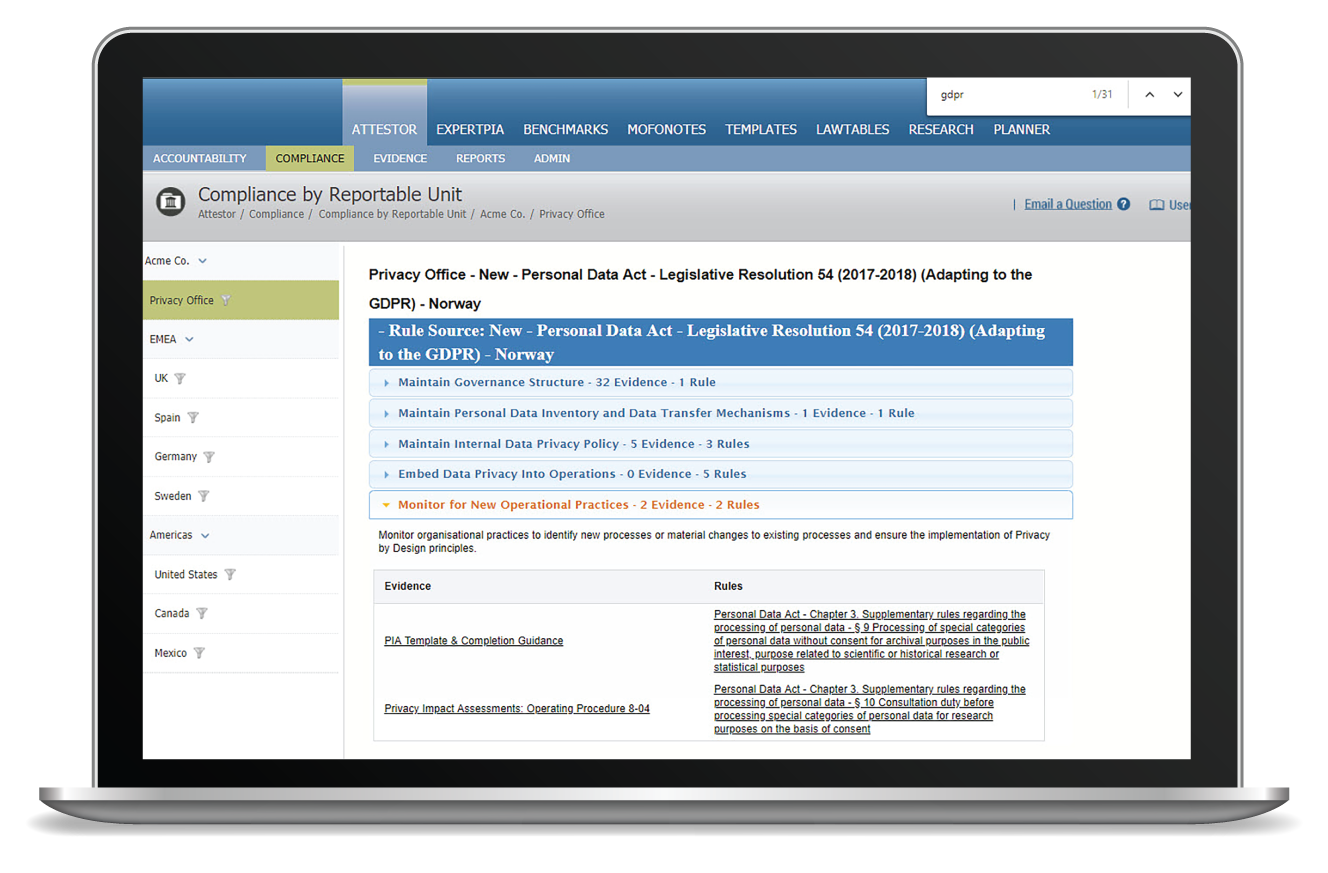 [wonderplugin_pdf src="https://www.nymity.com/wp-content/uploads/Nymity-Assessment-Attestations-Datasheet.pdf" width="100%" height="600px" style="border:0;"]
Contact us for a demo to learn how we can help you clearly demonstrate accountability and compliance