PRESIDENT & FOUNDER | CIPP/US/E/C/G, AND CIPM   
Terry McQuay
Terry McQuay is President and Founder of Nymity Inc (founded in 2002). An accomplished speaker, inventor, and privacy compliance and accountability expert, Terry is the author of "The Privacy Office Guide to Demonstrating Accountability" and a patent holder for software demonstrating privacy compliance. A Certified Information Privacy Professional/Manager (CIPP/US/E/C/G, and CIPM), Terry drives the product vision and strategy at Nymity, leading the design of the company's solutions and frameworks.
READ MORE
A member of the Centre for Information Policy Leadership (CIPL) and a leadership member of The Information Accountability Foundation (IAF), Terry is on the Advisory Council for The Future of Privacy Forum (FPF), Privacy by Design (PbD) Ambassador, and a Fellow for the Ponemon Institute. Terry is also involved with the USCIB, BIAC, ICC, and attends OECD and APEC privacy meetings. Before founding Nymity, Terry was the Partner at a security solutions firm and spent a number of years at Hewlett-Packard. Terry holds an Honours B.Sc. in Computer Science from the University of Guelph.
CHIEF GLOBAL PRIVACY STRATEGIST | J.D., CIPP/US   
Teresa Troester-Falk
Leading Nymity's global privacy strategy, Teresa is a thought-leader in the privacy industry and helps identify the future needs of privacy professionals by engaging with customers, privacy and data protection regulators, key policy groups/think tanks and other privacy thought leaders. Teresa leads some of Nymity's key accountability research initiatives and collaborates with other internal leaders to help innovate privacy accountability and compliance solutions and ensure organizational success.
READ MORE
Teresa is co-responsible for Nymity's external thought leadership and authors Nymity white papers and other publications and regularly speak at conferences, advanced privacy forums and on webinars. Teresa has over 20+years experience in law, including 14+ years as a global privacy professional. Prior to joining Nymity served as Associate General Counsel (Privacy) for Nielsen, where Teresa expanded the global privacy program as well as initiated and led key global and regional privacy and data protection programs and strategies, driving the relationships across internal and external stakeholders to advance the company's privacy agenda.
CHIEF TECHNOLOGY OFFICER   
Oleg Lemeshko
Oleg Lemeshko leads technology development at Nymity, with a focus on product and platform architecture. Oleg is a technology pioneer, having architected over 25 online and mobile solutions on Microsoft (.NET), Apple (iOS), and Google (Android) platforms, using Agile approach. Before joining Nymity, Oleg founded SiteSystems Inc. in 2006, a digital technology development company, where he also established Microsoft, Sitecore, and Coveo technology partnership programs.
READ MORE
Oleg started his career as a programmer in the banking industry, advancing through progressive roles before becoming CTO at Logos Corporation and then moving to Canada. Prior to founding SiteSystems, Oleg developed software solutions with various technologies for major Canadian companies. In addition to various IT certifications from Microsoft and Sitecore, Oleg holds an MSc from Dnipropetrovsk National University, with a Major in Applied Mathematics.
CHIEF OPERATING OFFICER | CIPP/C, CIPT, FIP   
Ray Pathak
Ray Pathak is a seasoned privacy professional with over 10 years of operational privacy experience. Ray is an expert in both privacy compliance and privacy management, In his current role as COO, Ray leads the Sales, Marketing and Customer Success areas of Nymity. Ray was previously the VP of Privacy Office Solutions and prior to that, Director of Privacy Office Solutions Americas. Prior to joining Nymity, Ray lead the Privacy Program for Target Canada through heightened regulatory attention and media scrutiny.
READ MORE
Before Target, Ray built and managed the privacy program at D+H, a technology based service provider to global financial institutions. Ray frequently speaks at workshops, webinars and conferences as a subject matter expert. Ray holds a Bachelor of Commerce degree from Ryerson University and also holds CIPP/C, CIPT and FIP certifications from IAPP.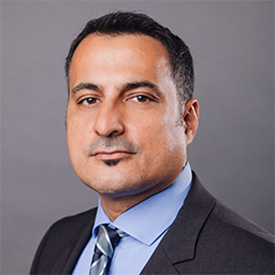 VICE PRESIDENT, RESEARCH | LL.B., CIPP/US/E/G AND CIPM
Camille McQuay
Camille McQuay joined Nymity in 2005 and leads Nymity's global Privacy and Data Protection Research Team. Camille is a Certified Information Privacy Professional/Manager (CIPP/US, CIPP/E, CIPP/G, and CIPM), a member of the IAPP, co-author of the Nymity Privacy Compliance Handbook, published by LexisNexis, and is also a Contributing Editor to the IAPP Certification textbook entitled, "Foundations of Information Privacy and Data Protection".
READ MORE
Prior to Nymity, Camille held the role of In-House Counsel with various multinational organizations where she advised on corporate law. Camille received her LL.B. from Osgoode Hall Law School and the University of the West Indies.
VICE PRESIDENT, MARKETING | MBA, BA
Bruce Warren
Bruce is Vice President of Marketing at Nymity, Inc. and is responsible for driving the company's overall marketing strategy, including brand management, corporate communications, product marketing, customer acquisition and retention, and marketing planning and execution. Prior to joining Nymity, Bruce held marketing leadership positions at technology companies including customer intelligence provider Vision Critical, internet giants Yahoo! and AOL, and Empathica, a venture backed start up acquired by InMoment, a customer experience management software provider.
READ MORE
Bruce has an MBA from London Business School and a BA (Advanced Major) in English from the University of King's College – Dalhousie University.
DIRECTOR OF STRATEGIC RESEARCH AND REGULATOR OUTREACH | LL.M.   
Paul Breitbarth
Paul Breitbarth joined Nymity in 2016 to support our EU operations. Based at Nymity's office in The Hague, the Netherlands, Paul maintains the relations with regulators and key customers across Europe. He is also Senior Visiting Fellow at Maastricht University's European Centre for Privacy and Cybersecurity. Before joining Nymity, Paul served as senior international officer at the Dutch Data Protection Authority.
READ MORE
He was an active member of various Article 29 Working Party subgroups, co-authoring a large number of opinions, including on the data protection reform, surveillance and the Privacy Shield. Paul holds a Master of Laws from Maastricht University in the Netherlands.
DIRECTOR, COMPLIANCE RESEARCH | LL.B., CIPP/US/E AND CIPM   
Meaghan McCluskey
Meaghan McCluskey joined Nymity in 2008 and is Director of Compliance Research. Meaghan is a Certified Information Privacy Professional /Manager (CIPP/US, CIPP/E, and CIPM). Meaghan is a Contributing Researcher to Nymity's book, "A Privacy Office Guide to Demonstrating Compliance" and Co-Author to the "Nymity Corporate Privacy Compliance Handbook," published by LexisNexis.
READ MORE
She is also a Contributing Editor to the IAPP Certification textbook entitled, "Foundations of Information Privacy and Data Protection", and contributed the appendices to the IAPP Book, "Building a Privacy Program – A Practitioner's Guide". Prior to Nymity, Meaghan articled for the Information and Privacy Commissioner of Ontario. Meaghan holds an LL.B. from Osgoode Hall Law School and an M.Sc. from McGill University.
DIRECTOR, OPERATIONS & QUALITY CONTROL
Brenda Lint
Brenda Lint joined Nymity in 2007 and is Director of Operations and Quality Control. Brenda plays a critical role at Nymity ensuring seamless operations, managing QA, and is instrumental in the development of Nymity's privacy solutions. Prior to Nymity, Brenda held a series of progressive roles at Xerox including the privacy office at Xerox Canada which was responsible for both customer and employee privacy. During her time at Xerox, Brenda helped with the implementation of privacy contracts and privacy policies, as well as employee training and awareness.